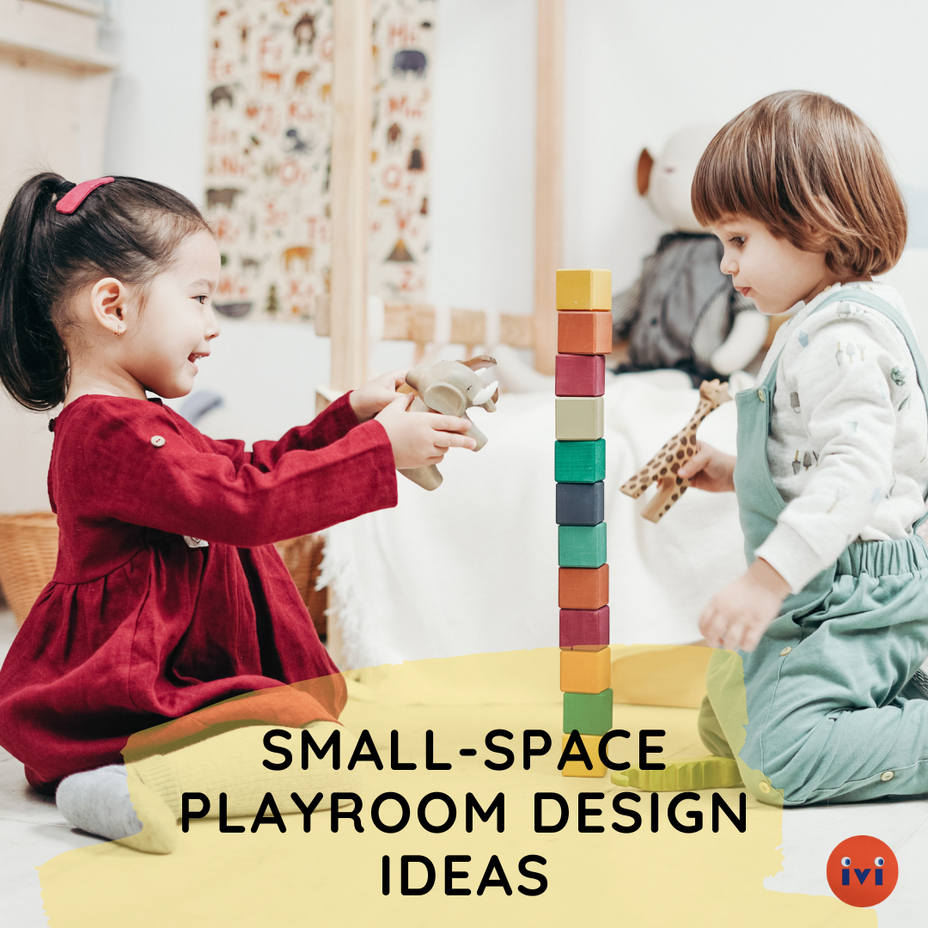 Small-Space Kids' Playroom Design Ideas
Tue, Jul 13, 2021
By Cameron Eittreim
Designing a playroom for your children can be a fun and enticing experience, but what if you are limited on interior space? Well, a small space doesn't have to limit your imagination. There are still a ton of fun things that you can do and incorporate into a limited area. There is a common misconception that children need a lot of space to be able to enjoy themselves, but that isn't the case at all. You can still have a phenomenal play area with a smaller amount of space, it's all about utilizing the space that you have.
Go Upwards:
The first thing that you'll want to do when it comes to creating a playroom in a small space is to utilize shelving. This means that you need to use the space that goes upwards, and this means incorporating lots of shelving and bins. Colorful shelves can be a welcoming place where children can keep their toys for easy reach. You can theme these shelves for different types of toys such as plushies, cars, dolls, and more.
Shelves also mean that there will be fewer toys scattered around the flooring, which keeps the room nice and neat. Plastic bins and shelving are also preferable for young children because the colorful shelves can teach them to put their toys away neatly. Corner shelves also work great because you can utilize tight corners and small spaces to work toward your advantage. If you can't go around due to limited space it will work much better to go upwards.
Use Play Rugs To Theme The Room:
The play rug is a great way to theme a playroom if you don't generally know what direction to take. Play rugs have a unique ability to add a dimension to the playroom that you wouldn't have with carpet or a traditional solid-colored rug alone. Because a play rug is a unique facet of the play area where the child can express themselves in a whole new world. The IVI 3D Play Carpets have a variety of different themes such as Mini City and Farm, which help to cultivate your child's imagination.
If you've been contemplating how to theme your small playroom a play rug is a perfect way. For instance, if you use the Farm play rug you can cultivate the colors around the play rug. Subtle greens and bright blues are the general aesthetic that a kid's playroom should have. But you can also use bright pinks and yellows for a younger child, and then change it as you need to when they grow and get older. Choosing a theme for a small-space kid's playroom doesn't have to be an intimidating prospect, and you can enjoy the space for years to come.
To Add Tech To Space or Not?
One of the hardest things to do when it comes to designing a kid's playroom is deciding on adding tech to the area or not. Do you want to add a TV? There are positives and negatives to doing this as you can hamper your child's positive growth. The positive to add a TV to a playroom is that your child can settle down and watch television during certain portions of the day. Another interesting tech item that you can add to a small-space kid's playroom is a Bluetooth sound bar or speaker.
Kids love to sing and listen to music and by adding a Bluetooth speaker to the wall you can control the children's music as you need. You can also play sing-alongs and educational audio, including audiobooks. You might be averse to adding a sound bar to a children's playroom but the benefits are almost endless. Whereas a TV can be a bit more controversial a sound bar is a nice safe alternative that your children will enjoy.
Don't Forget Bean Bag Chairs:
Another interesting thing that you can do to add a bit of character to your children's playroom are bean bag chairs. These chairs come in a variety of different sizes which makes fitting them into a tight space fairly easy. The other great thing about using bean bag chairs is that they work as a seating area without having to go all-in and get chairs or a table. Your kiddos can sit right on the bean bag chairs and enjoy their time in their playroom.
Bean bag chair styles vary from place to place, so finding one that suits your child is important. There are bean bag styles like the "Big Joe" which is a miniature recliner, and then there is the traditional style of bean bag which is just a giant soft bag. Most bean bag chairs are fairly durable which means that your children won't be able to bust them open or damage them. Not to mention the fact that bean bag chairs just look downright great on top of a children's play rug.
Small-Space Doesn't Mean Small Fun
Just because you are limited by the size of an area doesn't mean that you are limited on the fun. With the right use of a children's play rug and some creative storage options, you can create a playroom that your kids will love. IVI 3D Play Carpets are the perfect companion for creating fun that incorporates a fun atmosphere. You want an area that will cultivate learning and encourage your children to use their imagination.
If you take the time to create a space that your kids will get the most out of you will see a reward on investment. Even if the space is limited with the right shelving and the use of an IVI 3D Play Carpet your child will have a space that they can call their own and get the most out of. So have fun designing a small-space kid's playroom and watch your children grow and learn with ease and simplicity.
Back to Blog