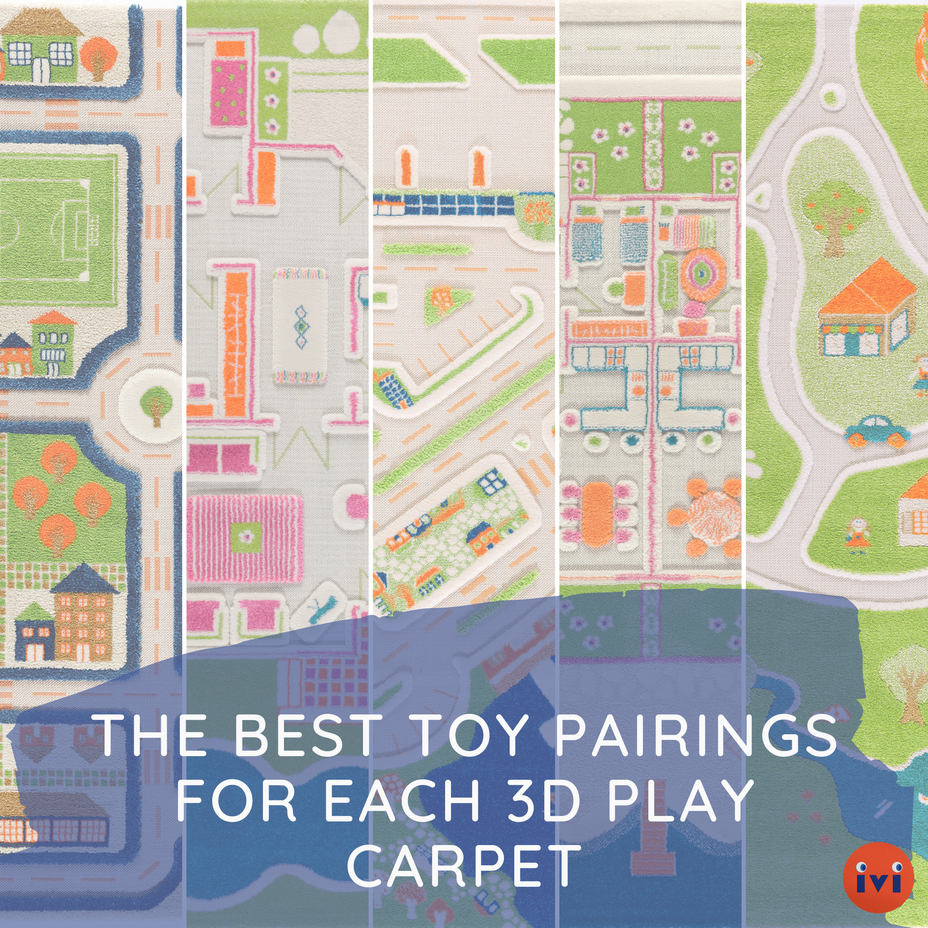 The Best Toy Pairings for Each 3D Play Carpet
Tue, Dec 01, 2020
Unsure about what toys to pair with our 3D play carpets? In this blog post, we'll show you the perfect pairings for each play carpet in our collection!
Cars and Trucks
Planes
Boats
Toy Buildings
Traffic Signs
Featuring winding roadways, parking lots, an airport, and a harbor, Mini City has it all! First, build a town of your very own with your favorite building blocks then add in some toy vehicles to drive around and explore! Whether your kid is a fan of cars, trucks, boats, or planes, Mini City has got you covered.
Cars and Trucks
Traffic Signs
Toy Buildings
Townspeople Dolls
Soccer Player figures
Similar to our Mini City carpet, Traffic features plentiful roadways and a parking lot for your favorite cars and trucks. Bring the neighborhood together with some townspeople going about their day and traffic signs to keep the neighborhood safe! You can even use the traffic signs as a teaching moment on traffic safety! Plus a full soccer field means you can add athletes in for some friendly competition.
Dolls
Pets
Doll accessories (blankets, hair brushes, kitchen accessories, etc)
Toy plants and outdoor accessories (outdoor umbrella, picnic table, floaties for the pool, etc)
Ever wanted to climb inside your dollhouse and play alongside your favorite dolls? With Playhouse, you can! Fill this dollhouse floorplan with your favorite dolls like Barbie, LOL Dolls, Playmobil and more. Add in some accessories and take your imagination to the next level! You can even add in some toy pets because what's a home without a furry friend, right? 
Dolls
Beach themed doll accessories
Small boat toys
Doll cars
Small home accessories (cups, plates, lamps, etc.)
Who wants to go on a Beach House getaway? 🙋‍♀️ We know we do! Our Beach Houses play carpet is perfect for imagining you're kicking back relaxing at your very own beach house. Dolls and beach accessories are the perfect pairing. Set up some small home accessories to make it all your own. Add in some boat toys to make things extra exciting! 
Farm animal toys
Tractors
Farmers and farm visitors
Little food accessories (for growing crops)
Bring the outdoors in with the plush green pastures and blue lake of our Farm carpet. Perfect way to incorporate farm animal toys for all those animal lovers out there! Add in tractors to ride through the winding country roads and farmers to make sure everything is going according to plan. Plus grab a few dolls to stop on by, because what is a farm without visitors? You can even add in small food accessories to pretend they are crops growing on the farm! 
All carpets shown in this blog post are size large.
Back to Blog