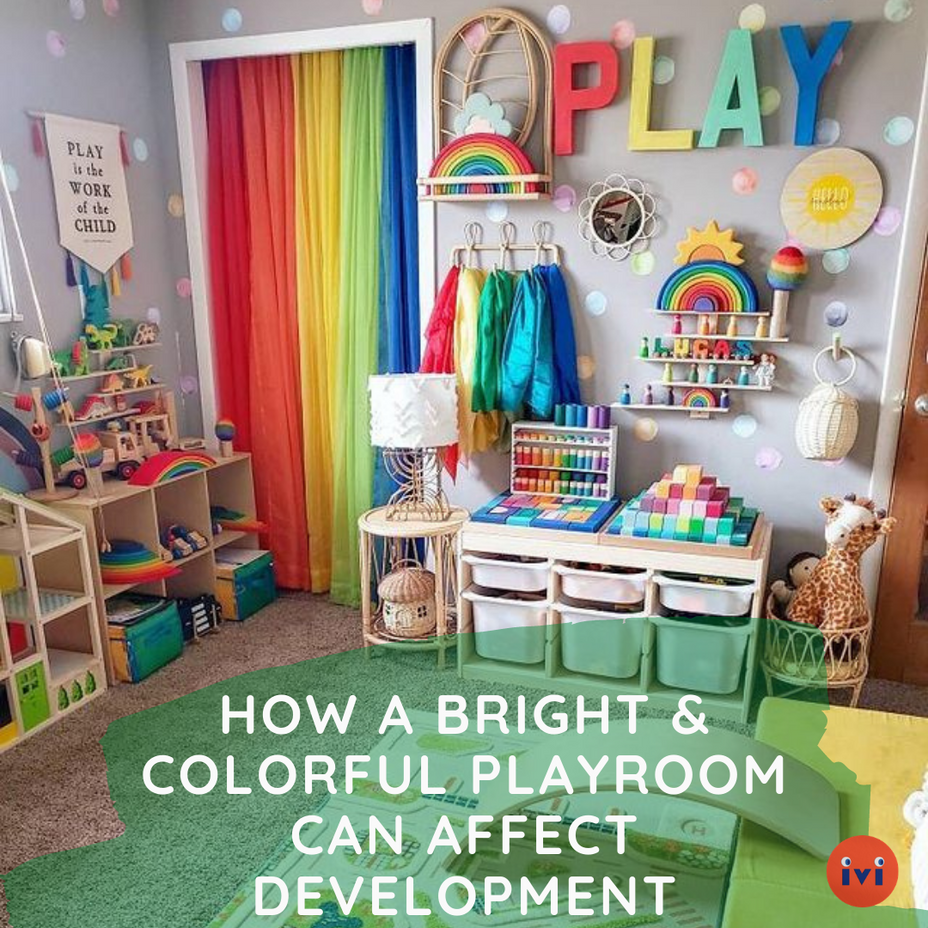 How a Bright & Colorful Playroom Can Affect Development
Tue, May 18, 2021
By Cameron Eittreim
Have you ever noticed that most pediatricians utilize bright colors in their offices? Or how most learning toys are created with bright colorful patterns? Well, this is because bright colors have been scientifically proven to affect the mood and development of young children. You've probably been thinking about redesigning your children's play area, haven't you? As parents, we strive to give our children the best of everything. Some parents take it overboard with the design of the room and this only overwhelms small children. Instead, taking the time to utilize colors and principles will result in improved behavior and more.
The hardest choice can be deciding on colors and décor. It's important to design the area around your children and their wants and needs. Utilizing bright colors is an effective way to shift bad behavior and increase learning retention. Your children want a space that's all their own, and they need a space where they can be separated from you. This will give your children the space that they need to further their development, and improve things like sharing and comprehension.
The Plight For Colors
Ok, so maybe you don't want to coat your living room in lime green and blue paint schemes. But, there is science behind the benefits of using bright colors around your children. However, you don't have to go to the extreme to do it. There are several ways that you can use colors in your room décor without going over the top. Every child is different and they aren't all going to react the same way to a specific set of colors.
Research suggests that the color red increases the heart rate and breathing. Likewise, overexposure to the color can have an adverse reaction such as encouraging aggressive behavior and an inability to focus. If you've been noticing that your child is having trouble focusing then it could be attributed to too much red going on in the room. Red should be used as an accent color but not to color an entire wall.
Orange is a color that you don't see too much of but it's quite beneficial. The color orange encourages confidence, extroversion, and independence. It has been said that color increases cooperation in children and puts the mind at ease. Again, orange is certainly a bright color and I can't see using it for more than an accent. 
Green is more or less a power color, you can use as much of it as you want and it's been said that the color green reduces anxiety in children and increases reading speed and comprehension. Understanding the cognitive benefits of certain colors will help your child's development tremendously.
How To Get The Best Of Both Worlds
Certainly, by painting the walls in a certain room you can influence how your child is learning and feeling. But, what if you could get the best of both worlds without having to repaint an entire room? Well, this is where the play rug comes into the equation. You see, a play rug combines all of the colors that improve your children's cognitive abilities in a convenient format. Take the IVI World Farm play rug, for instance, what's the first thing that you notice?
The bright green grass takes over the design of the rug, coupled with blue lakes and bright orange accents. Even in the medium size, the Farm play rug introduces your children to these important developmental colors, while doing it with a comfortable and sanitary surface. A play rug is putting your child face to face with the developmental colors, a far cry from what simply painting the walls would do.
It's no secret that children love to lay down with their face to the floor, and with an IVI play rug, they can do this safely. The IVI Beach Houses play rug takes a different approach by incorporating bright pink accents with a lot of white and orange. These are crucial colors for the development of a little girl and the play rug incorporates all of it nicely. The great thing about play rugs is the fact that you can incorporate them with just about any room décor.
Using Wall Accents
To avoid having to paint the walls a bright and unsightly hue, wall accents are the next best option. For children, the choice in wall accents can be almost endless, but you want to choose things that cultivate a learning experience. The use of educational posters is something that should be a no-brainer for most parents, but choosing warm colors can create a sense of happiness and coziness.
Shelving is also a must-have accent when you talk about a children's playroom. Now, these shelves aren't generally used for storage as much as for personal items. Like, say a dinosaur lamp, knick-knacks, and even photo frames. The more that you can make the room welcoming and family-oriented the better that your child's development will be. Instead of opting for plain wood or plastic shelving, you can go for colored wood instead.
Taking the time to paint the shelves in colorful hues can add flair to the wall, without having to paint the entire wall at once. You can also remove these shelves much easier once your children get older and their tastes change. Colorful frames to go around educational posters is also a great combination that will make the wall pop like never before.
Comfortable Chairs
In addition to focusing on the wall colorations and the play rug underneath your children's feet, comfortable chairs count too. Bean bag chairs specifically are the perfect piece of furniture for children's development because of the bright colors. The comfy design means that your kids can get comfortable without having to spend a great deal on a traditional chair. You'll notice that a lot of children's chairs are not comfortable, and as such, it can be hard to get them to sit still.
If bean bag chairs aren't your cup of tea then a comfy bench with storage is also a great solution. A lot of these benches come with a flip-up storage compartment which is great for storing diapers, toys, and knick-knacks out of sight. Another great thing about a bench is the fact that it looks great against a wall or under a window. Toy boxes can be unsightly and take up a lot of room, thus a colorful bench provides ample seating and storage space.
Children's play chairs are also ideal if you are incorporating an activity table into the mix. These compact table and chair combinations are perfect for playing tea time, building, and having group sharing exercises. Again, finding comfort is the key because you want your children to explore their creativity and express themselves.
Pieces that Grow with Your Child
Doesn't it frustrate you that little ones grow up so fast? It seems like they are with us for only a brief time and then they are gone. Thus, the same goes for their bedroom. Instead of going for pieces that you'll have to replace next year the room should be designed to grow with them. Using natural furniture and pieces can make the room function for many years with minor tweaks and upgrades.
As previously stated, the posters are an easy and inexpensive way to add vibrancy to the walls without much trouble. We've examined how colors positively and negatively affect your children which is why painting an entire wall isn't always the best solution. As your child grows you can change the posters to match their newfound interests. The same goes for benches and shelving, most of which can be tailored to a specific gender instead of age range.
Decorating your child's playroom can be quite addictive and it can be tempting to go "all-out". But, taking the time to add pieces that will grow with your children will save you time and money. The room will be a lot more comfortable and you'll notice that the child will get a lot more usage out of it as well. Utilizing colors to affect the way that our children respond to life is a great tool to have in our parental arsenal.
Don't Forget To Include Them
Lastly, you know what the best part of designing your child's playroom is? Including them! Make the process of designing the room a fun and memorable one. You can teach them about the fundamentals of organization, how to keep their stuff neat, and more. Allowing your child to take a more personalized approach will make them feel some responsibility. This will in turn lead to better behavior and habits when it comes to sharing and cleanliness.
It's important not to let them get carried away because you don't want a lot of clutter. But, by the same token, you should allow them to personalize the room. Even small touches like a personalized photo frame, journal, or stuffed animal is a great way to personalize. LED lighting is another popular option that can add a touch of color to the room. Because this is a play area the child will be spending a great deal of their time in that space.
Using a playroom to positively impact your children's behavior is a great way to enhance their developmental stages. Little ones require a good deal of nurturing and attention to hone in on their skills and needs. With the right type of setup, you can have a room that doubles as a learning sanctuary and a place where they can have fun. With a play rug in the mix, you can have the best of both worlds and cut out the electronics.
Less screen time will result in a drastic improvement of their behavior and development. This is all attainable by using a play rug to create a colorful and lively playroom. It can seem difficult to get a firm idea about what you want to do with a playroom, but once you have the vision you will be amazed by the finished results and your kiddos will too.
Which play carpet would you add to your playroom? Let us know in the comments below!


Back to Blog