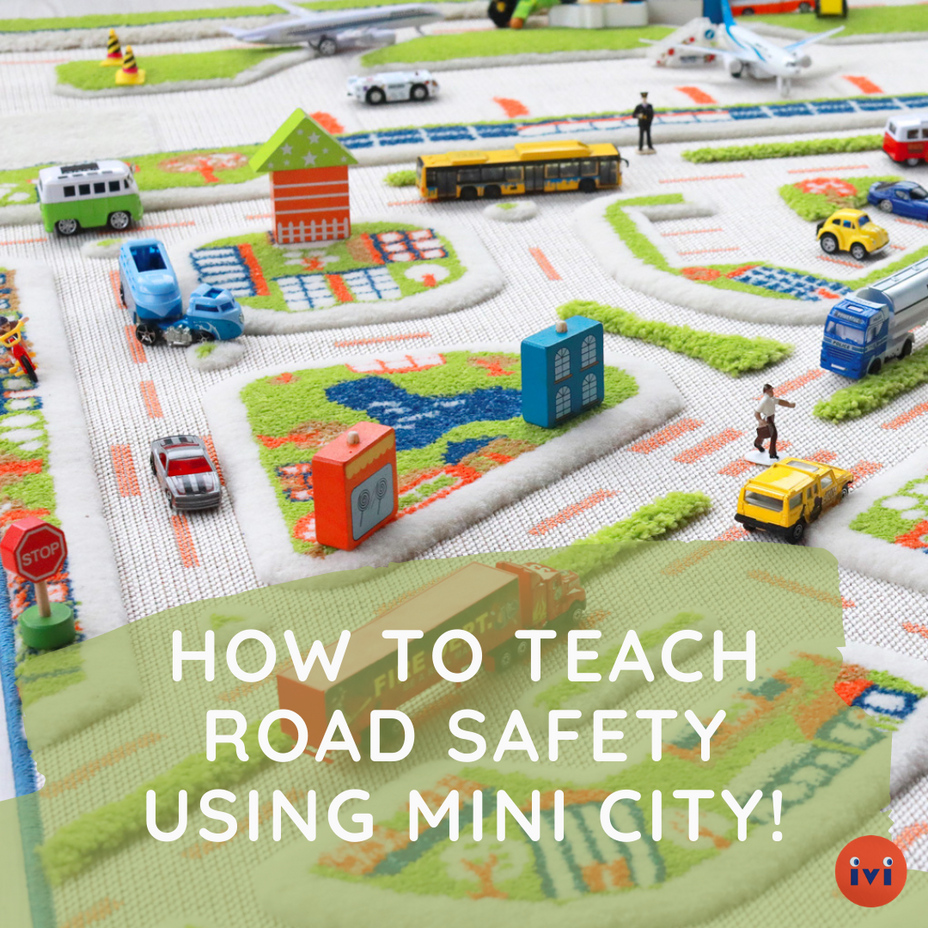 4 Ways to Teach Your Kids Road Safety with our Mini City Play Carpets
Tue, Sep 15, 2020
By Jennifer Waldman
Play is a wonderful thing. It can expand a child's imagination, tap into their creativity, and get them thinking in new ways. But play can do even more. Play can educate and it can do so while being fun! And while that may not be so easily accomplished... it can be if you have a 3D play carpet! This week we will be showing you skills that you can teach your children with our Mini City 3D play carpet. Not only will this keep them safe as young children, but it'll be a helpful head start for when they get older!


1. Traffic sign meanings and what they look like 
It's never too early to start teaching your children how to be safe in or near the street. Take traffic sign toys (or make your own out of paper) and place them along our Mini City carpet in places these signs would be located on a real road. Begin familiarizing your children with what they look like, what they say, and what they mean. For example, take a stop sign and put it on one of the roads. Then "drive" a toy car to the stop sign and show that the car stops because of the stop sign. Make sure to explain to your child that just because people are supposed to stop doesn't mean they always will and it is important to be extra careful.
2. How to safely cross the street
Our Mini City play carpet is full of roadways making it the perfect visual tool to explain to your young child how to cross the street before even having to bring them to a crosswalk. Give your child a doll or toy that represents them and have them place it in an area where they will be "crossing" the street. Explain to them that they must look left, right, and left again to make sure it is safe before crossing. You can even "drive" toy cars on the road while asking your child "is this a safe time to cross?" If they incorrectly say it is a safe time to cross, let them know why it would, instead, be unsafe.
3. How roadways work
Being young, your child may not have much, if any, experience around roadways. Building familiarity helps children to be knowledgeable about roads so that when they do find themselves near the street (even if it happens to be just in the front yard) they know how to remain safe. Explain to your child that lots of different types of cars drive on the roadways and show which side of the road they drive on. Show your children that cars can come from both directions on the street. Explain to them how car horns work and that if you hear one you should be extra careful of what's around you.
4. How to identify important cars (and what makes them important)
There are many different types of cars on the road and many of them are important! For example there are police cars, fire trucks, ambulances, buses, etc. If you have toys that represent these different types of cars then set them on our Mini City carpet and explain the big responsibilities that they have. Let your children know that these different cars help during emergencies and familiarize them with what they look like. For example, let them know that police cars, fire trucks, and ambulances may have loud sirens and flashing lights. You can even act out different scenes with your children to show them further what each car does.
Back to Blog